Last January I visited Copenhagen. It was an odd time of year to visit the country perhaps, but a friend had frequent flyer points and wanted to go and I tagged along. I'd never been to Denmark.
From the moment I started telling people I was going, something interesting happened – everyone who had been there raved about it. Everyone loved it. Everyone thought it was beautiful or told me their favourite museum was there, a place called Louisiana. A few people said if they could live anywhere, that's where they would live. It was not like Paris, which I adore but some dislike, or Spain, or any place really, in that the love for it was universal. I was excited to see what all the fuss was about.
We flew out on a Friday, and I was smitten with British Airways First Class lounge. Cold champagne and hot mashed potatoes – it was like they read my mind about things that made me happy. The flight was delightful, what with all the extra leg room and the flight attendants dancing attendance upon us. We had cream tea and another glass of Champagne, and I said as we landed the trip was already perfection, and that I wasn't drinking anymore alcohol.
I had found the hotel and apart from a bathroom door that didn't quite click shut, it was lovely. The staff were kind and helpful, informing we when I asked about bottled water that the tap variety was drinkable. I was shocked and pleased but bought a bottle from a shop anyway. The air was cold and bright as we made our way to a nearby jazz bar. I got to test my new Monzo bank card on a bottle of fizzy water and near beer and was delighted when it worked. The music was fine and the venue atmospheric, but the most fun came from people watching. There was a couple on a first date I guessed who went from awkwardly sitting across from each other, to gently holding hands, to a full on snuggle by the time we were ready to leave. I wasn't sure if it was real or the product of whatever amber liquid they were drinking, but she seemed happy enough so I smiled and made my way back outside. We wanted to have a good rest and an early start. Besides, I love a good hotel room when it is more than dropping stuff off and using it to sleep. This one was nice. One wall was lined with windows, and it looked over an outdoor bar. A few times over the weekend I stood looking out, thinking how much fun it must be to meet friends there in the summer, when the days were long and the nights had a golden light.
Saturday dawned cool and grey, the way I pictured a winter Scandi day. We bundled up and set out, grabbing a coffee from a small kiosk in the middle of a town square. The young man who waited on us was cheerful and kind and I regretted not having kronor to tip him. He was so nice about it when I apologised that I felt even worse and gave him a few euros, for when he travelled.
We walked and we walked, visiting shops and a castle and stopping for lunch on the harbour. The meal was a collection of dark breads with assorted fish and the best potato salad of my life, and I left with a mixture of happiness and melancholy, knowing the chances of my visiting again were slim. I wish I could remember the name of the place, but I don't, however it was a short walk to where the Little Mermaid rests in the harbour. It was smaller than I imagined – understated, classy and sleek – like Copenhagen.
It felt like it was near the end of the day and getting colder, although it was only four o'clock, when I saw an interesting building. It was modern, round or maybe cylindrical shape, on the edge of a street. A sign stated that it was the Museum of Danish Resistance, and my friend and I decided to visit.
*
I have been to a lot of museums over the course of my travels. I have visited more war museums than I can remember. In some of these I read stories of young soldiers that still live inside of me. I defy anyone to visit the Museum of the Somme and leave feeling the same way about our world as upon entering. But the Danish Museum of the Resistance was something else. Focussing on the lives of a handful of people at the start of the war until the end, you walked a meandering route, getting updates on how their lives changed as the war progressed. There was a young man who fought in the Resistance, and I found myself uttering small prayers he survived. At the end you learn the fate of each person, and then you watch a film about the ones who survived and how they spent their time after the war. We left as it was closing and as we stood once again in the cold I said to my friend, 'that was both heart-breaking and beautiful.' I think he agreed.
The way the museum told its story, much like the building itself, was deceptive in its simplicity, carrying so much weight with dignity. I still think about it.
We went back to the hotel room where we saw the door was left ajar. I was alarmed about my passport and my remaining cash, but nothing was amiss. We brushed out teeth, I tried to fix my hair after wearing a hat all day, and then we went to the old meatpacking district, now home to a variety of gorgeous restaurants. We got a table in the window of one called Gorilla and I had a lobster roll done with tarragon and gruyere that was out of this world. I still think about that, too.
Sunday was more walking, more marvelling, and the best dark chocolate cinnamon pastry of my life. A touch of rain fell, then the sun came out, and I fell a bit more in love with Copenhagen.
It was a short visit and I was already planning my return when it came to an end. There was no first class lounge at the airport and the flight was just as nice, but the sadness of the trip being over settled in, as well as the lingering feelings from the museum, the tang of unworthiness I often feel after seeing what people went through during a war that took place not so long ago. It seems unreal that people can suffer so much and then go on, but I learned at the museum about those who did. I liked that their stories had been completed for me.
January turned to February and to March. Somehow lots and very little changed in my life at the same time. This happens when you are a writer. You work hard then wait for feedback. Wait for reviews. Wait for sales. Eventually, just as another book begins to percolate, you get editorial notes and brace yourself for their impact. All the while there is the concern about cashflow and retirement and the fear of being perceived as negative when you voice concern that you are worried about your life. It takes it out of you, but it is nothing compared to what the people living through war and occupation go through. I try and remember this.
A few weeks ago I was talking to my sister about the Ukraine and if we will ever visit Florida again, and somehow we ended up on the subject of Jeff Bezos money. I said that if I had his cash I'd put a pack on my back and travel until I simply keeled over someplace. I wouldn't mind if that happened in Copenhagen – I would obviously have more than enough tip money this time.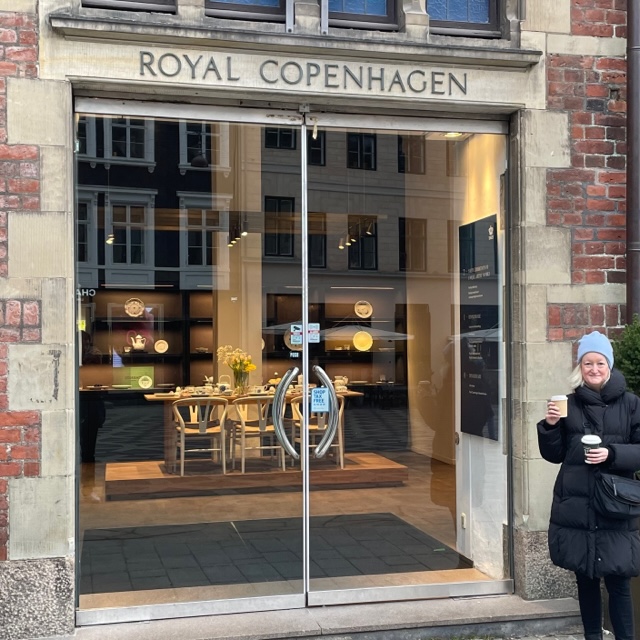 Coffee!